Book Your Lunch with Brad Taylor – Poinsett Club – Greenville South Carolina
January 18 @ 12:00 pm
EST
$56
Book Your Lunch with Brad Taylor at the Poinsett Club!
Join New York Times bestselling author Brad Taylor for a book your lunch event at the Poinsett Club on Tuesday, January 18th at Noon. Brad will give a talk on his new book End of Days, and will be available afterwards to sign. Dress is business casual (no denim).
Your $56 ticket admits one to the event, and includes lunch, as well as a copy of End of Days. If you are purchasing more than one ticket, you are welcome to exchange extra event books at the event or at the store.
Tickets can be purchased through Monday, January 17th, at 9am. Refunds can be requested up until the ticket cutoff. (You can send someone else in your place after the cutoff, but be sure to give that person your ticket.)
About events at the Poinsett Club:
Dress is business casual (no denim).
A Poinsett Club lunch typically includes an entree salad or an entree with sides, iced tea and water, bread or cornbread, and cookies for dessert. Any dietary restrictions should be relayed directly to the Poinsett Club (email [email protected]).
For stair avoidance / wheelchair access: For events in the Poinsett Room, please park in the front of the building and enter through the side door directly into the event room. Wave and we'll come down the stairs to you to check you in. For all other events, please park in the back of the building and use the ramp. If the event listing doesn't specify the room, please email [email protected] to inquire.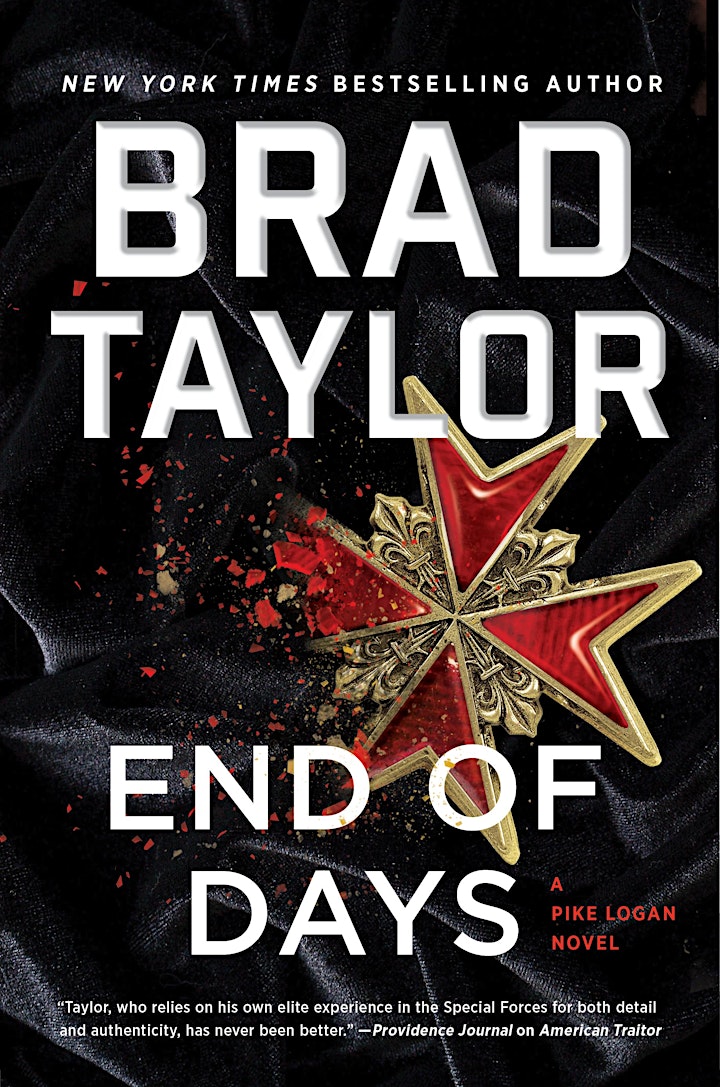 Brad Taylor—the New York Times-bestselling author of the Pike Logan series and former Special Ops officer—delivers an action-packed international thriller involving a plot to bring about the end of the world and a serial killer on the loose in the heart of Rome in END OF DAYS: A Pike Logan Novel.
Stuck at home in Charleston for months because of COVID, Taskforce operators Nephilim "Pike" Logan and Jennifer Cahill finally have the chance to get married in a lavish ceremony in front of family and friends. But their plans suddenly change when two trusted Israeli allies, Shoshana and Aaron, show up at the rehearsal with an urgent request. A former head of the Mossad, Israel's equivalent of the CIA, has apparently been assassinated by an Iranian-backed terrorist group while paragliding in Switzerland. But Shoshana and Aaron doubt that theory, and want the Taskforce to help identify the true culprits. Beyond that, Shoshana—a highly skilled but volatile assassin with uncanny instincts, who was mentored by the murdered intelligence chief—is determined to make them pay the ultimate price.
The Taskforce, an ultra-secret Special Ops group, is designed to carry out covert missions vital to US national security. With a direct line to the president, the organization is authorized to blow past bureaucratic boundaries and agency turf wars to do whatever it takes to get the job done, including the taking of human life if necessary. This mission, however, is a stretch even for Pike and his team of unconventional operators, starting with their need to travel on Israeli passports in order to evade COVID restrictions as they race the clock to stop World War III.
When two American diplomats are assassinated in Italy, Iran's fingerprints seem to be all over those hits, too. But as Pike and his team dig deeper at Shoshana's insistence, they discover something truly stunning. A group of rogue operators within the Knights of Malta, a centuries-old Catholic charitable organization with roots in the Crusades seems intent on fulfilling an ancient biblical prophecy known as the End of Days. Meanwhile, a twisted serial killer is murdering women in Rome, and a female Italian police investigator is close on his heels.
As international tensions mount, hawks in Israel, Iran, and the United States push for war. Yet everything that has happened so far is just a prelude to what has been planned by Garrett, the leader of the renegade Knights of Malta unit, who like Pike is a former U.S. Army Special Forces officer. Israel's prime minister is preparing to welcome dozens of foreign dignitaries, including the Grand Master of the Knights of Malta and American Christians who fervently believe in the End of Days prophecy, at the place known in the Bible as Armageddon—the scene of the final battle between good and evil before the Day of Judgment. If Garrett succeeds, there will be a deadly strike on that meeting unless Pike and his team can stop it.
About the Author:
Brad Taylor, Lieutenant Colonel (Ret.), is a 21-year veteran of the U.S. Army Infantry and Special Forces, including eight years with the 1st Special Forces Operational Detachment – Delta, popularly known as Delta Force, where he commanded multiple troops and a squadron. Taylor retired in 2010 after serving more than two decades and participating in Operation Enduring Freedom and Operation Iraqi Freedom, as well as classified operations in Afghanistan and around the globe. His final military post was as Assistant Professor of Military Science at The Citadel. He holds a Master's of Science in Defense Analysis from the Naval Postgraduate School, with a concentration in Irregular Warfare.
In 2011, Taylor published his debut novel, One Rough Man, which was an immediate success and launched the Pike Logan series. Now with 16 installments and more than 3 million copies sold, the series has consistently hit the New York Times bestseller list. When not writing, Taylor serves as a security consultant on asymmetric threats for various agencies. He lives in Charleston, South Carolina, with his wife and two daughters.
Refund Policy:
You may request a full refund until the ticket sales cut-off. After that, we cannot issue a refund, but you can send someone else in your place (make sure they have your ticket).
Related Events