Clay Hunt Daisy Monument Walk
March 4 @ 8:00 am

-

11:00 am

PST

Free – $22.95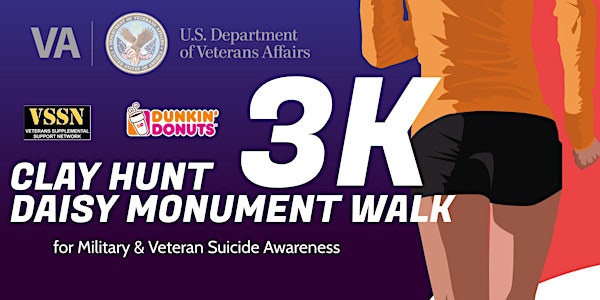 Join the annual 3k free guided or self-guided walking tour of veteran memorials where you can stop to hear stories from historians.
Sponsors and For-Profit Vendors Click Below:
https://www.eventbrite.com/e/vssns-daisy-walk-vendors-sponsors-tickets-354666104867
(NEW DATE!) On March 4th, 2022 at 0800 VSSN (Veterans Supplemental Support Network) and Department of Veteran Affairs will host a self guided monument tour at Riverside National Cemetery (RNC). This tour, the Clay Hunt Daisy Monument Walk is a suicide awareness event. Walkers will park at Sysco, check in, and use all pedestrian walkways as they head to the RNC. All event ceremonies shall be held inside the Riverside National Cemetery.
The Clay Hunt Daisy MONUMENT WALK charge is to debunk the stigmas placed on mental health as well as increase suicide awareness within the military and veteran community.
Each step brings us closer to a world without suicide.
LOCATION AND ROUTE:
Route:
Meeting at Sysco Parking lot (15750 Meridian Pkwy, Riverside, CA 92518)
Walk to RNC Monuments (22495 Van Buren Boulevard)
Visit Historians at the Fallen Soldier/Veterans' Memorial
Visit Historians at the Prisoner of War/Missing in Action National Memorial
Flag (50ft) unfolding and carry begins @ Medal of Honor Memorial
Return for a Bubble Finish @ Sysco Parking Lot
Event Itinerary:
0700-0800 Set Up
0800- Guest Check-In
0845- wrap up at Sysco
0900- Opening Ceremony (at the RNC plaza)
0915 Kick-Off Walk
0920-11:00 Self-Guided or Guided Walk
THINGS TO BRING
Your Service Dog (optional)
Water
Sunscreen
Comfortable Shoes
Light Clothing
Charged Cell Phones for Pics to post (#daisywalk)
Flags to carry (optional)
Hand Sanitizer
Pet Disposable Waste Bags
THINGS TO CARRY
Your Custom Daisy Walk Wreath: Contact us at [email protected]
Free Daisies: Artificial long-stem colored daisies (come early limited supply at the event)
Flags
Colors Represent Why We Walk…
RED- NEVER FORGOTTEN a person who has lost a loved one or friend to suicide
GOLD- I IDENTIFY a person who identifies with, connects to, or supports a person with suicide ideation
a person who recognizes the struggle and impact of suicide ideation and is willing to spread awareness
MORE FREE STUFF
All Resources
The Walk
Service Animals
Dunkin Donuts—thanks to Stout Brands!
Bottle Water—thanks to our donors
T-Shirts—- for check-in, a trading post (snack bar and flower station), and safety monitor volunteers
Finish Line refresher
THE BUBBLE FINISH
As you return to the Sysco Parking Lot, please walk/run through the "celebration of life" bubble finish area and grab a refreshing drink from our sponsors!
Related Events