Hops & Vines Fundraiser
September 23 @ 4:00 pm

-

9:00 pm

CDT

Free – $50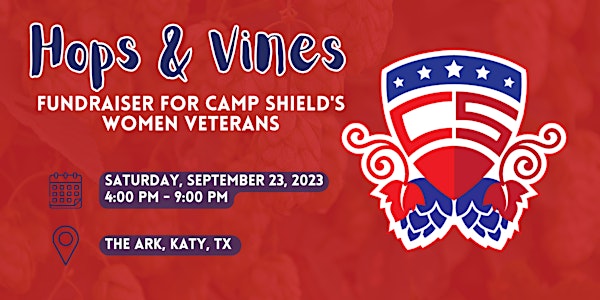 Support Women Veterans at this inaugural fundraising event: enjoy entertainment, food, drink tastings, and more!
Join us for Hops & Vines, Camp SHiEld's inaugural fundraising event presented by the West Houston Leadership Institute Class of 2023. This exciting evening benefits Camp SHiEld, a non-profit organization dedicated to empowering Women Veterans to thrive after military service as they transition into civilian life.
Join us for this unforgettable experience filled with inspiration, community, entertainment, and flavors, including:
Drink tastings from local breweries, wineries, and distilleries
Delectable food pairings
Live music from local talent
Silent auction
Vendor booths featuring veteran-owned and local businesses.
Children's activities, like bounce houses and face painting (childcare not provided)
And the opportunity to connect with like-minded individuals who share a passion for supporting Women Veterans!
How to support
Don't miss this chance to make a lasting impact!
Click "get tickets" here to make a significant difference in the lives of Women Veterans and their families as they navigate the path toward emotional strength, social unity, and physical perseverance. Your generous contributions play a crucial role in supporting Camp SHiEld's mission, expanding its reach, providing vital resources, and enhancing transformative initiatives such as retreats, workshops, and programs. Help us exceed our fundraising goal of $40,000 – the sky is the limit!
Calling all:
Supporters, Veterans, and family members including children (limited discounted tickets available)
Sponsors
Veteran-owned/serving and local businesses
Volunteers
Stand with us as we unite to make a positive difference in the lives of these brave women who have served our nation. Together, let's create a brighter future and show our unwavering support for these deserving SHEroes!
Sponsorship opportunities
Thank you for considering sponsoring this important event! Sponsors are acknowledged through various channels, including event programs, signage, verbal recognition, and online platforms. Depending on your sponsorship level, you may also be able to provide a guest speaker or emcee. Vendor table sponsors can also showcase their business and engage attendees.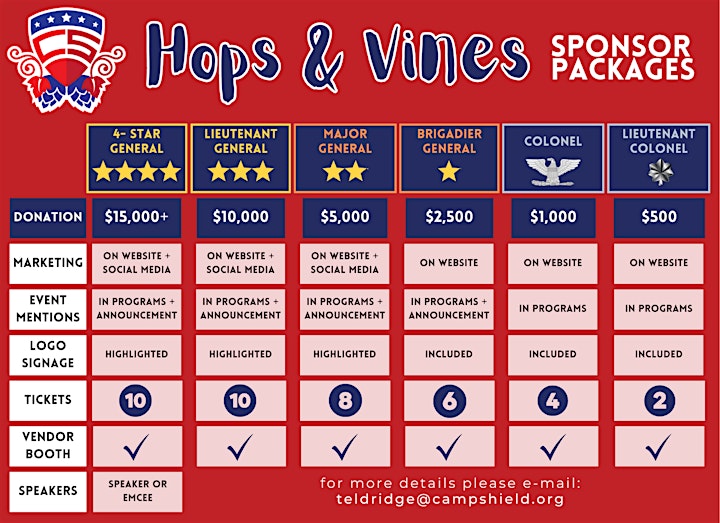 Camp SHiEld is a 501(c)(3) organization, and we can provide you with tax receipts upon request.
Vendor opportunities
This event is a fantastic opportunity to showcase your business, products, and services while demonstrating your support of Women Veterans. Come engage with a diverse audience of professionals and community members passionate about supporting the cause. Your presence will also be recognized through event programs, signage, and verbal acknowledgments. This is your chance to gain exposure, connect with potential customers, and contribute to a worthy mission!
Please note that vendor registration is an application and does not guarantee selection. Vendor booths are limited, so early application is encouraged. We especially encourage veteran-owned businesses and veteran-serving organizations to join us and host a booth at the event. We look forward to reviewing your application and selecting vendors who align with our event's mission and vision.
Vendor fees (due upon selection) :
Minimum vendor table sponsorship fee of $250, including two event tickets
Minimum of 1 silent auction donation to contribute to our fundraising effort
We look forward to collaborating with you!
Volunteer opportunities
We are seeking passionate and dedicated individuals to contribute to the success of this meaningful event! You can contribute your skills, time, and enthusiasm to a worthy cause and create an unforgettable experience for attendees.
As a volunteer, you can get involved in various aspects of the event, including:
Event setup and cleanup
Assisting with check-ins
Helping with activities and games
Supporting vendors
Managing guest services
And much more!
You'll work with like-minded individuals, expand your network, and gain valuable experience in event coordination and nonprofit fundraising.
Please note that volunteer registration does not guarantee selection, as the number of available positions is limited. However, we will try to accommodate as many volunteers as possible. Selected volunteers will be notified via email with further details, including the specific role and responsibility assignments.
We value your commitment and dedication and can't wait to welcome you to the team!
For more information or to discuss any of the above opportunities further, please email Tina Eldridge at teldridge@campshield.org.
About the beneficiaries: Camp SHiEld

Many women who serve our country face unique challenges when they return home, including physical and mental health issues, financial struggles, and difficulty transitioning back into civilian life. Camp SHiEld aims to work with Women Veterans to address these issues by providing a safe and supportive environment where they can come together, share their experiences, and receive the support they need.
At Camp SHiEld, the mission is to empower Women Veterans – emotionally, socially, and physically – to ensure that SHE thrives after military service. Through immersive retreats and programs, Camp SHiEld offers a transformative experience that fosters healing, personal growth, and community connection.
Find out more about who we are and what we do: https://www.campshield.org/
About the organizers: West Houston Leadership Institute (WHLI)

Founded in 2004, the West Houston Leadership Institute is an experiential learning program designed to provide participants with a breadth of knowledge concerning healthcare, transportation, education, diversity, government, business and many areas of life in West Houston.
Find out more: https://whli.net/
Committee Representatives (WHLI Class of 2023):
David Akdemir
Jeff Andre
Jill Assir
Kelly Baldwin
Jennifer Behan
Jeff Caley
Joseph Toussaint
Tameika Campbell
Leighton Chang
Tina Eldridge
Virginia Elizondo
Matthew Herrera
Tangelo Hughes-Beston
Scott Kelley
Jyoti Malhan
Kathy Perez
Rebecca Robinson
Lori Vereen
Related Events