July Speaker Series with Col. Kurt A. Schlichter, Esq US Army (Ret)!
July 28 @ 7:30 pm
EDT
$25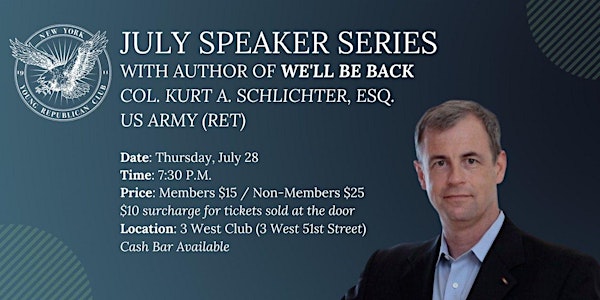 Join us for our July Speaker Series with author of We'll Be Back, Col. Kurt A. Sclichter, Esq. US Army (Ret)!
About this event
Kurt Schlichter is a conservative commentator and writer who often appears on Fox, NewsMax, and elsewhere as a commentator on various legal and other topics, as well as guest hosting on national radio shows for Hugh Hewitt, Seb Gorka, and others. He is the Senior Columnist for Townhall and he has been published in publications like the New York Post, the Los Angeles Times, and the Washington Times. He is the author of the new Regnery book We'll Be Back: The Fall and Rise of America, as well as The 21 Biggest Lies About Donald Trump (and You) and the USA Today Bestseller Militant Normals. He is also the author of People's Republic and the Kelly Turnbull Conservative action thriller series.
Kurt is active on social media, with over 450,000 Twitter followers (@KurtSchlichter). He is a former stand-up comic.
Kurt is a trial lawyer and a name partner in a Los Angeles area law firm. Kurt is a 1994 graduate of Loyola Law School, where he was a law review editor. He majored in Communications and Political Science as an undergraduate at the University of California, San Diego.
He retired as an Army infantry colonel, serving both on active duty and in the Army National Guard during his 26+ year career. A graduate of the elite Army Airborne School, he commanded the 1st Squadron, 18th Cavalry Regiment (Reconnaissance-Surveillance-Target Acquisition) and is a veteran of both the Persian Gulf War and Operation Enduring Freedom (Kosovo). He earned a master's degree in Strategic Studies from the United States Army War College in July 2011.
He lives in Los Angeles with his wife Irina and favors red wine, red meat and .45 caliber pistols.
When: Thursday, July 28
Time: 7:30 PM
Price: Members: $15 / Non-Members: $25 ($10 surcharge for sales at the door)
Location: 3 West Club (3 West 51st Street)
Cash Bar Available.
Related Events