SHE Thrives Retreat – Spring 2023
March 12 @ 10:00 am

-

3:00 pm

CDT

|

Recurring Event

(See all)

One event on March 12, 2023 at 10:00 am

Free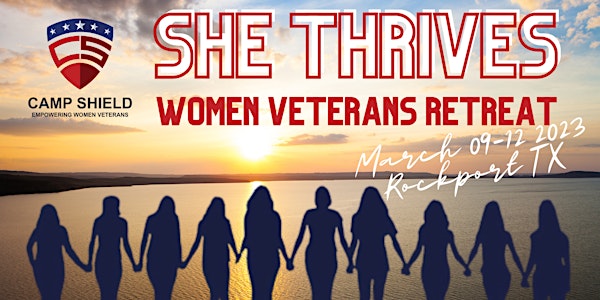 Join Camp SHiEld's first weekend-retreat of 2023 for women veterans and their children.
Enjoy time with your sisters-in-arms at this beautiful location – learning, healing, and growing, as your children are cared for by camp staff and have their own fun!
Meals and lodging provided
Travel expenses reimbursable (up to 200 miles each way)
Children 5 – 17 welcome!
The 3-day retreat will be held at Camp Aranzazu, located in Rockport, Texas.
COMMITMENT FEE: $50 required upon selection to attend, which will be refunded on arrival.
Note this registration is considered an application and does not guarantee selection. The first round of selected applicants will be notified before the end of February, and then on a rolling basis. Please confirm invitation acceptance within 48 hours of notification with your full intake forms (including proofs of service and of relationship for family members) and your commitment fee. This fee will be refunded only on arrival, so cancellations forfeit the refund.
About the Workshop Facilitators

Maggie Peterson served 10 years in the United States Air Force as one of the first female C130 Loadmasters. Her combat deployments include support of Operation Desert Storm, Operation Southern Watch (twice), Operation Joint Guard, Operation Just Cause, Operation Joint Forge, and Operation Enduring Freedom.
Post Traumatic Growth has been a focus of Maggie's life, post military. Maggie has earned an Associates of Applied Sciences in Aviation Operations, a Bachelors' of Science in Business Information Systems and an MBA with a specialization in Finance. Maggie is also a John Maxwell Leadership Speaker, Teacher and Coach. She holds Graduate Certificates from the Rice University Leadership Institute for Nonprofit Executives program and the Leadership in Action program as well as the Liberty University Graduate Certificate in Military Resilience.
Maggie is the Founder of After Military Service (AMS); a 501(c)3 organization. AMS's current focus is on Camp SHiEld. Camp SHiEld's mission is: Empowering women veterans – emotionally, socially and physically, to ensure SHE thrives After Military Service. Currently, Camp SHiEld's programming consists of the SHE Thrives Sessions (workshops), Peer Support Groups, Mastermind Book Clubs, and Retreats focused on Emotional Strength, Social Unity and Physical Perseverance. Camp SHiEld's 5-10 year strategic plan includes acquiring 10+ acres of land to build a retreat facility and then a transitional housing community for women veterans and their children to heal and grow.
Maggie currently lives in Houston, Texas. She is the proud mother of two amazing daughters. Maggie's oldest daughter, Destinie, lives in New York City where she is working with the Big 4 Accounting Firm, Deloitte & Touche. Maggie's youngest daughter, Marisa, recently completed Esthetician school and loves working in her field of study.
Dr. Angela Dickson is an Air Force Veteran, 20-year retired Master Sergeant. She is a dedicated, focused adult learning expert with over 30 years of progressive experience managing and leading various modalities of development and implementation of training solutions. Dr. Dickson holds a B.S. in Workforce Education and Training from Southern Illinois University, a Masters from UNLV in Educational, Instructional and Curriculum supervision, a second Masters in Educational Administration from Texas A&M Kingsville, and a Ph.D. in Educational Leadership from Prairie View A&M University.

Karen Marie Quiles is an accomplished Marine combat veteran who continues to serve as an ambassador, volunteer, and advocate for several veteran service organizations invested in the wellness of veterans and their families. She is an author and continues to expand her education with a degree in Mind-Body Medicine and is a certified Cognitive Behavioral Coach, Integrative Nutrition Health Coach, Warrior Goddess Training Facilitator, Reiki Master, and currently working on her trauma conscious yoga teacher training with Connected Warriors.
Inspired after experiencing her own struggles with post-traumatic stress and military sexual trauma symptoms for years, she embarked on a holistic wellness journey and found a path of choosing meditation over medication that helped her dive deeper into her full-circle healing journey. Karen quickly discovered that what she was missing from her recovery was a balance of what she calls the 'Healing Trifecta' of mind, body, and spiritual engagement. She reached a turning point in her own healing where she wanted to help others find that turning point in
themselves and has made it her life's mission to embody resiliency in order to inspire others to transcend their own trauma and limiting beliefs.
Karen's intention is to help others rise, live their most authentic lives, and create an everlasting impact in the world through self-actualization, transformation, and empowerment. She is devoted to helping her fellow veterans find alternative coping strategies toward optimal health and wellness that will help them create an environment conducive to balanced healing. She believes in co-creating a ripple effect by uniting forces to continue to serve by creating and living a life full of love, growth, peace, purpose, joy, abundance, and prosperity.

Lucy Guajardo is a 25-year U.S. Army Combat Veteran. She has worked 25 years in early childhood intervention and social services. In her journey to find alternate wellness to cope with MST and PTSD, she found Reiki to be a useful tool. She looks forward to teaching retreat attendees techniques that promote relaxation, reduce stress and anxiety through gentle touch.
About the Location: Camp Arazazu
Camp Aranzazu developed a unique approach called "Intentional Camping," which is the purposeful design of a camping experience to nurture the physical, social, emotional, and mental development of each camper. In short, every activity is designed with a specific goal in mind.
We seek to help our campers: "Camp feels like home."
Challenge their beliefs about themselves and their capabilities;
Gain confidence, have fun, and try new activities; and
Develop a social support network and decrease any sense of isolation by spending time with others who face similar challenges.
About the Organizer: Camp SHiEld
Camp SHiEld is a division of After Military Service (AMS). AMS is a nonprofit organization that was founded in July of 2017. The mission of AMS is to support the personal and professional success of Veterans and their families, after military service. AMS increases resiliency, life satisfaction and empowers our nation's military families.
Find out more about Camp SHiEld and our other events: www.campshield.org
Follow Camp SHiEld on Facebook, Instagram, Twitter, and LinkedIn.
If you have any questions or need additional assistance, please don't hesitate to email us at [email protected]
Related Events