Steve Early and Suzanne Gordon : Our Veterans
September 7 @ 6:00 pm

-

8:00 pm

PDT

$5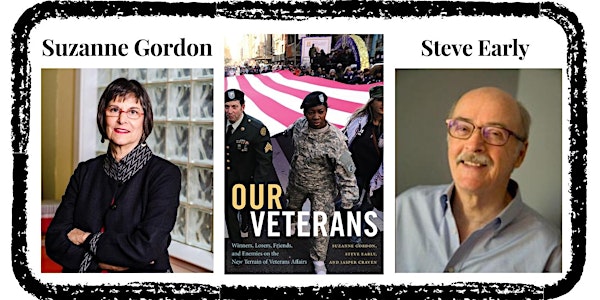 KPFA welcomes authors and activists Steve Early and Suzanne Gordon in celebration of the release of their most recent book, Our Veterans
Please join KPFA Radio at The War Memorial Veterans Building in San Francisco on Wednesday, September 7th at 6:00pm when we welcome authors and activists Steve Early and Suzanne Gordon in celebration of the release of their most recent book, Our Veterans: Winners, Lostes, Friends and Enemies on the New Terrain of Veterans Affairs. This live, in-person event will be hosted by TBD.
"This little book is jam-packed with information that is not only fascinating, it promises to be incredibly helpful to any vet who will take the time to read it." John Ketwig, The Veteran
Winners, Losers, Friends, and Enemies on the New Terrain of Veterans Affairs
In Our Veterans, Suzanne Gordon, Steve Early, and Jasper Craven explore the physical, emotional, social, economic, and psychological impact of military service and the problems that veterans face when they return to civilian life.
The authors critically examine the role of advocacy organizations, philanthropies, corporations, and politicians who purport to be "pro-veteran." They describe the ongoing debate about the cost, quality, and effectiveness of healthcare provided or outsourced by the Department of Veterans Affairs (VA). They also examine generational divisions and political tensions among veterans, as revealed in the tumultuous events of 2020, from Black Lives Matter protests to the Trump-Biden presidential contest.
Frank and revealing, Our Veterans proposes a new agenda for veterans' affairs linking service provision to veterans to the quest for broader social programs benefiting all Americans.
Steve Early is a freelance journalist, labor organizer, lawyer, and the author of, most recently, Refinery Town: Big Oil, Big Money, and the Remaking of an American City. His work has appeared in The New York Times, The Washington Post and The Nation, among others.
Suzanne Gordon is an award-winning journalist and author. She is the author or co-author of books including Wounds of War: How the VA Delivers Health, Healing, and Hope to the Nation's Veterans.and has written for The New York Times, The Los Angeles Times, The Washington Post, The Atlantic and others. She is the co-editor of the Culture and Politics of Health Care Work series at Cornell University Press.
EVENT DETAILS:
Wednesday, September 7th at 6:00pm
Steve Early and Suzanne Gordon book release for Our Veterans
The War Memorial Veterans Building 401 Van Ness Ave, San Francisco, CA 94102
Tickets $5.00 in advance / $5.00 at the door (discounted tickets for students, veterans and fiscally challenged are available)
Related Events