Thriving After Military Service "All Ranks" Transition Seminar
March 7 @ 9:00 am

-

5:00 pm

EST

Free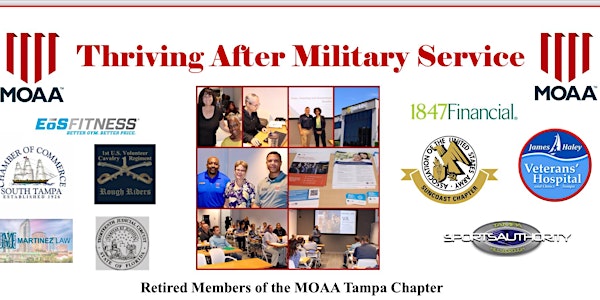 Is there more to life after military service than getting a job and starting a non-military career? Of course…find out how you can thrive!
When you are released from active duty military service you receive any number of info briefings on the importance of a good resume, how to interview, how to dress, and on and on. At this point you've probably got that pretty firm in your mind if not on paper. To be sure, you need to get a job with pay and benefits adequate to meet your family needs; and, of course, you want that next job to lead to a fulfilling career with advancement and all that goes with it.
But…is there more to life after military service than getting a job and starting a non-military career? What about you and your family? Have you really thought out what your health insurance options are and how much they cost? Have you considered life insurance options, building a nest egg over and above your military retirement, your finances, your taxes? Do you have a will, health power of attorney, and have you set up a trust? You have a lot going for you and now is the time to capitalize on it by seriously considering these questions.
Alright then, you've got a handle on this, having military training and experience you know the value of service. You served your country with honor and integrity and you did so proudly! How about taking some of that commitment and spreading it around? Voluntary service is out there just begging for you to join in and myriad opportunities abound in our fast growing Tampa Bay Region. Find out what the Veterans Treatment Court (VTC) does and learn how you can support your fellow veterans who may not be as fortunate as you. Join a local Krewe – many of these organizations do more than just march and throw beads in the big Tampa parades (but, no doubt, that's a heck of a lot of fun too!) and are very much into community service. Want to start a local business? Then get active in one of our award winning Chambers of Commerce. How about supporting the various veteran organizations in the Tampa area? Consider helping the VA's homeless veterans' initiatives. If you were an officer, join the Military Officers Association of America (MOAA) and its local 5-star award winning chapter. There are also numerous "all ranks" organizations such as the SOF Foundation, Association of the US Army, and many more. Many Veterans have found their niche in exciting and unusual part-time gigs such as fitness instructors and working in stadium staff for our local Professional Sports Clubs. Finally, there are volunteer organizations – too many to mention here – like Habitat for Humanity, various church-sponsored food banks, and so on.
It's your brand-new life as a civilian – make the most of it!! Our focus is on you, your family, and our community. The MOAA-Tampa Chapter offering a new and unique "Thriving after Military Service" event on Tuesday, 7 March from 9:00 am to 5:00 pm at the FIVE Labs Conference Center; it's located at 4115 W. Spruce Street, Tampa. This is an ALL RANKS event and spouses are encouraged to attend. Space is limited and masks are your option. Best yet, there's no cost to you and a light lunch, drinks, and snacks will be served.
Related Events