TLP Veterans Resource Fair
March 25 @ 10:00 am

-

2:00 pm

CDT

Free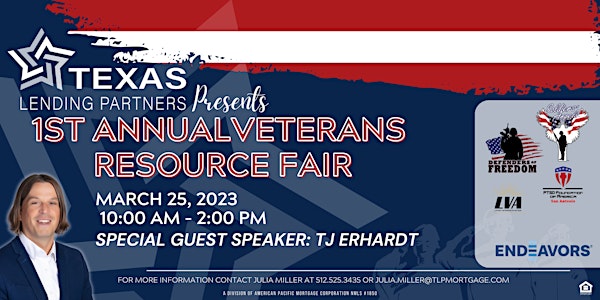 Learn about the resources available to you, the Veteran, and your family locally.
We are a mortgage company that has been doing VA mortgage loans for over 21 years. During our time serving our brave military, we discovered that the government machine is sometimes difficult and overwhelming for our military members to navigate. We have made it our mission to care not only for their housing needs but also for their health, emotional, and support needs. We are launching a Veterans Resource Fair on Saturday, March 25th from 10:00-2:00 to share available resources, discuss mental wellness, and touch on the opportunities available for housing; utilizing VA benefits.
If you provide any service for Veterans and their families and would like to join or sponsor lunch please text or email Julia Miller. 512.525.3435 |[email protected]
Guest Speaker:
JJ Erhardt
Joining Us:
Soldiers' Angels
Soldiers' Angels provides aid, comfort, and resources to the military, veterans, and their families.
Defenders of Freedom
Defenders of Freedom provides donors with the organization they need to support post-9/11 Veterans in their transition to civilian life through emergency financial assistance, morale-building programs, and traumatic brain injury treatment.
PTSD Foundation of America – San Antonio
The Mission of the PTSD Foundation of America is to bring hope and healing to Combat Veterans and their families suffering from the effects of combat-related Post Traumatic Stress.
They do this by taking a whole-person approach and offering evidence-based peer-to-peer mentoring, both on an individual basis and in group settings. In addition, our programs and services are free to the veterans and their families so that the focus remains on their journey to healing.
Endeavors
They believe everyone has the capacity to grow, heal, change, and succeed. That's why they passionately serve vulnerable people in crisis through comprehensive, effective, and innovative services that empower them to build better lives for themselves, their families, and their communities.
Latino Veterans in Action
LVA IS PROUD TO ASSIST ALL ELIGIBLE TEXAS HOMEOWNERS WITH THE (INTAKE) APPLICATION PROCESS FOR THIS FEDERALLY FOUNDED PROGRAM AT NO COST TO THE HOMEOWNER.
The Texas Homeowner Assistance program assists eligible homeowners with a grant to cover past due mortgage payments, up to three (3) months of future mortgage payments, property taxes, insurance, homeowner/condo association fees, past due utility payments, and up to three (3) months of future utility payments.
Eligible utility payments include electricity, natural gas, propane, water, and wastewater. The program is administered by the Texas Department of Housing and Community Affairs with funding provided by the American Rescue Plan Act of 2021.
Texas Lending Partners
Our mission is to provide lifetime mortgage services for every stage of growth; First Time Home Buyers to those Building their Dream Home, Investing, and Retiring. Consulting with you to make strategic mortgage decisions, based on your financial portfolio, future plans, and goals.
Related Events