Tossin' Out Hunger Cornhole Tournament
September 15, 2022 @ 5:30 pm
CDT
$50 – $100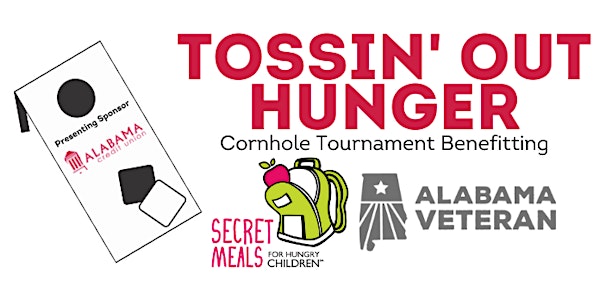 Join us for the first annual Tossin' Out Hunger Cornhole Tournament benefitting Secret Meals For Hungry Children and Alabama Veteran.
This event, sponsored by Alabama Credit Union, will consist of 50 cornhole teams with 2 players on each team. Tickets are $50 per player, or $100 per team. Event will be held at The Venue at Seven Oaks Farms where food trucks and beverages will be served. Sign up now to secure your spot! Each player will receive 1 meal ticket and 1 beverage ticket.
Winners will take home cash prizes:
1st place – $300
2nd place – $150
3rd place – $100
All proceeds from this event will benefit hungry children and veterans. Visit the benefitting charities website to learn more about each organization.
About the charities:
Many children in Alabama rely heavily on free and reduced breakfasts and lunches five days a week. However, the weekend creates a nutritional gap leaving many children hungry when they return to school on Monday. Secret Meals fills the gap these children experience by discreetly slipping into their backpack, on Fridays, vitamin-fortified and nutritional meals.
Alabama Credit Union created the Secret Meals For Hungry Children program in 2008 with one goal in mind – decreasing the number of children in Alabama facing hunger over the weekend. Through partnerships with local food banks, our commitment has never been stronger.
With one of the highest poverty rates in the country, 22 percent of Alabama children live below the poverty level. Approximately 2,500 students are receiving Secret Meals food packs across the state of Alabama and into the Florida panhandle. By partnering with local food banks, we are able to ensure hungry children have reliable access to nutritional food on the weekends. On average, $140 is the cost to provide a weekend food pack to one child, identified as going hungry, for an entire school year.
To allow as many children to receive food packs as possible, Alabama Credit Union provides all promotional and operational funding for the Secret Meals program, meaning 100 percent of every penny donated goes toward the purchase of food packs.
There are so many questions asked and not entirely understood when we leave the military. Some feel they are prepared for the next steps, while others get lost in the transition. That's where we step in to help one another, just as we did in the military.
Just as you were broken down from your civilian lifestyle when joining the military, we assimilate ourselves as cadre to teach you how to reintegrate back into post-military life with the same support.
The most important thing that the military teaches is teamwork. Accomplishing any mission, relies upon many factions of support. That why Alabama Veteran is one of the largest peer to peer networks that uses this concept. We are the conduit to these "factions" that help you accomplish your mission of transiting by using a network of providers and support systems to better prepare you
Related Events