Veteran EDGE 2023 Conference – Business Showcase & Resource Exhibition
March 24 @ 5:00 pm

-

8:00 pm

CDT

$75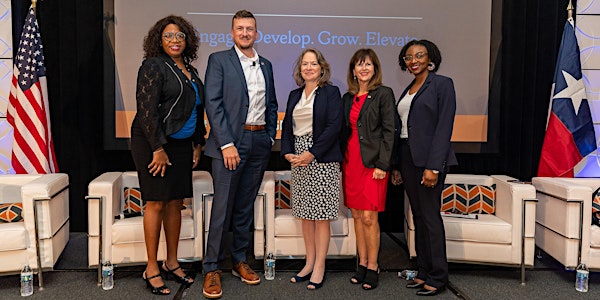 Veteran EDGE 2023 Conference – Business Showcase & Resource Exhibition
Business Showcase & Resource Exhibit
This event will be held on Friday, March 24, 2023, in the Marseilles Room at the Hyatt Regency, 300 Reunion Blvd, Dallas, TX, where over 100 veteran-owned businesses and resource partners will have an opportunity to showcase their products and services.
About the Conference:
The D'Aniello Institute for Veterans and Military Familes (IVMF) will be hosting the Veteran EDGE Conference in Dallas, TX, from March 22-25, 2023. During the third day of the event, we will be offering opportunities to showcase what your business has to offer! Please read more about each opportunity below:
Business Showcase – Friday, March 24, 2023, from 5:00-8:00 p.m.
If you are a veteran or military spouse business owner, we would like to invite you to showcase your business. One table per registration ticket will be accommodated. You are welcome to bring collateral as well as items to sell. Space will be allocated, and tables mapped and emailed two weeks prior to the event.
Resource Exhibition – Friday, March 24, 2023, from 5:00-8:00 p.m.
If you are a provider of veteran and/or military-spouse services/resources, or general business services/resources, we would like to invite you to set up a display to share your resource with our veteran and military spouse audience. One table per registration ticket will be accommodated.
Please select the ticket for the appropriate showcase opportunity and register only once (aka: Business Showcase OR Resource Exhibitor). We will reach out to registrants with further details, to include location within the conference space, setup, and tear down. There is a $75.00 registration fee for the Business Showcase and Resource Partner Exhibits. If you are a government agency, please contact us separately at the email below.
If you have any questions, please contact us at [email protected]
Hyatt Regency Dallas
300 Reunion Blvd.
Dallas, TX 75207
FAQ's:
What is the Veteran EDGE Conference? The Veteran EDGE Conference is a first-of-its-kind event dedicated solely to veteran and military spouse business owners and the ecosystem that supports them. With a focus on businesses that have been in operation for at least a year and are in the growth stage, the conference brings together stakeholders, IVMF program graduates, and veteran and military spouse-owned businesses from around the country. Participants will have the opportunity to network and learn about the latest opportunities, best practices, and resources available to their growing companies. To learn more, visit our site here: https://ivmf.syracuse.edu/veteranedge/
Can I participate in the Business Showcase and attend EDGE? Yes, we welcome individuals who have applied, been accepted, and have registered to attend the conference to also showcase their businesses. As a conference dedicated to established businesses, we understand that participants might benefit from showcasing what they have to offer. The Business Showcase will begin at 5:00 pm on March 24, 2023, on the evening of the third day of the conference. This event will be held in the same room as Industry Night Networking event which will allow participants to mingle and spend quality time with exhibitors while enjoying refreshments and music.
What is provided? Each business or exhibitor will be provided with a 6-foot table and two chairs.
Self Parking is available in the hotel lots at $14.00/day.
ABOUT THE D'ANIELLO INSTITUTE FOR VETERANS AND MILITARY FAMILIES:
The IVMF is the first interdisciplinary national institute in higher education focused on the social, economic, education and policy issues impacting veterans and their families post-service. Through our focus on veteran-facing programming, research and policy, employment and employer support, and community engagement, the institute provides in-depth analysis of the challenges facing the veteran community, captures best practices and serves as a forum to facilitate new partnerships and strong relationships between the individuals and organizations committed to making a difference for veterans and military families. Learn more at ivmf.syracuse.edu.
Related Events