Veteran's Memorial Convoy Cruise Fundraiser
May 31, 2021 @ 8:30 am
CDT
You are officially invited to the 2021 MSF Veteran's Memorial Convoy & Fund-Day!!
About this event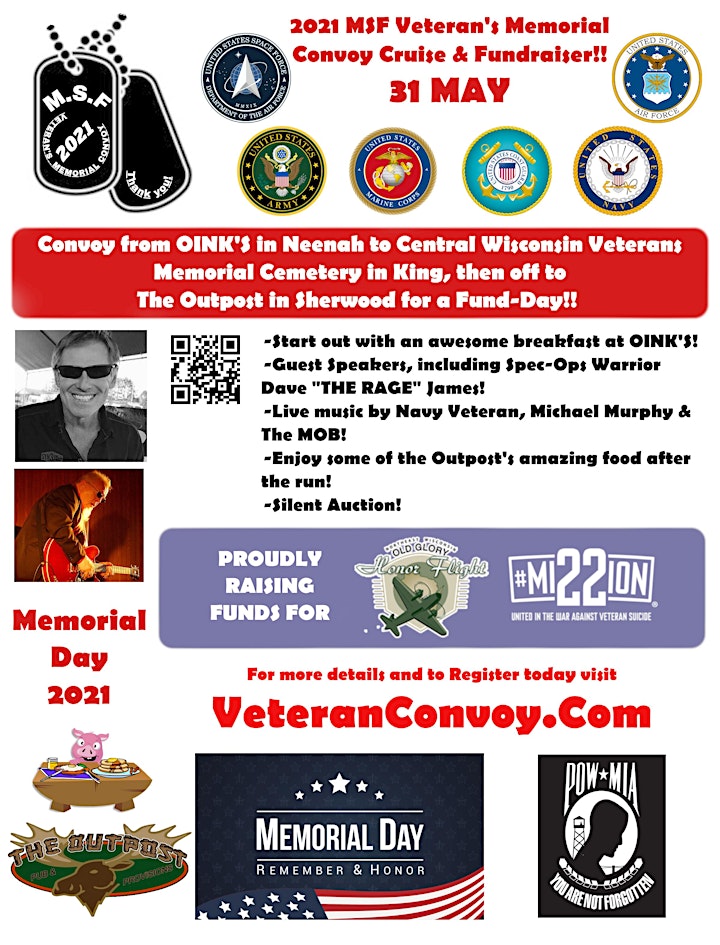 Join us for an awesome breakfast at OINK'S in Neenah!
Guest Speakers, including Spec-Ops Warrior Dave "THE RAGE" James!
Enjoy some of the Outpost's amazing food after the run!
Live music by Navy Veteran, Michael Murphy & The MOB!
Silent Auction!
THIS IS A FUNDRAISING EFFORT FOR OLD GLORY HONOR FLIGHT & MISSION 22!!
7:00 AM Join us 4 breakfast at OINK'S before the event if you wish!!
8:30 AM Vehicle Staging at OINK'S!
9:15 AM Convoy departs OINK'S!
10:15 AM Arrive at CWVMC (Veteran's Cemetery)
11:00 AM Depart CWVMC (Veteran's Cemetery)
12:30 PM Arrive at The Outpost in Sherwood
12:30 PM Ater drive event begins!
Want to meet at CWVMC and convoy back? Go for it!!
Can't make the convoy? Head to the Outpost for the after-drive event!
Have plans for Memorial Day already? Email us for links to donate to the charities!!
Related Events