W12CDRC-ProLifeEvent 3.0 (Event to aid LPCPC) | GodsFamilyRoom
May 8, 2021 @ 1:00 pm

-

5:00 pm

EDT
About this Event
SouthEast Michigan PRO-LIFE (3.0) EVENT (LPCPC Drive):
W12CDRC "Crisis Pregnancy Center" ProLife 3.0 Drive/Event – God's Family Room, Taylor, MI – Saturday May 8th 2021 — 1p-5pm (Full, printable, sharable, Flyer, attached below)
God's Family Room – 8813 Beech Daly Rd, Taylor MI 48180. You can find God's Family Room online at http://GodsFamilyRoom.com or via Facebook at http://facebook.com/godsfamilyroom.
Wayne-12CDRC contact info: [email protected]
Donations for the Lincoln Park Crisis Pregnancy Center will be accepted
Items needed:- PREFERRED: Check donations made payable to the "Lincoln Park C.P.C." — Additional items (COVID19 precautions — only NEW ITEMS in original and sealed packaging…. Enfamil infant formula (powdered) 12.5oz can(s)… Diapers (sizes 1, 2, 5, 6, please)… Towel sets, Thermometers, Baby nail scissors, Socks… Summer clothing (https://www.thebump.com/a/best-clothes-for-a-newborn) 3T and 4T Boys Clothes, Spring Jackets, and Shoes up to size 9….
— Sorry, due to COVID19 precautions NO USED ITEMS can be accepted/processed at this time (Thank you for your kind consideration and we Hope to be able to accept your generous, slightly used, easily cleaned/processed, items next year)
Check donations can, of course, also be sent directly to LPCPC by mail year 'round and are greatly appreciated: LPCPC, 1760 Fort Street, Lincoln Park MI 48146. You may contact LPCPC via phone: 313-386-4005, email: [email protected], or visit their website: http://CPC4LP.com.
ALSO: MEET/GREET WAAM RADIO* (1600, Ann Arbor MI) Show personalities…Pastor Rick** of "Moment Of Clarity" hour/Show (Sat's 2p*)Phil Stargell*** of "Abolotionists Roundtable" hour (Sat's 9a*)… as they Broadcast**** LIVE from 2p-3p. The post LIVE WAAM REMOTE Broadcast YouTube session is also attached below.
Paid for by: Wayne-12 Congressional District Republican Committee by Regulated Funds, Not authorized by any Candidate or Candidate Committee, 22364 S.Fairway, Woodhaven MI 48183
Please SUBSCRIBE to (Wayne-12CDRC) us on Eventbrite to always remain up-to-date on current/future Events at: http://tinyurl.com/Wayne12Eventbrite
* WAAM Radio 1600 (Ann Arbor MI) LISTEN LIVE ANYWHERE: http://www.mainstreamnetwork.com/listen/player.asp?station=waam-am&listen=Listen+Live
** Richard Deitering is Pastor at Ypsilanti Free Community Bible Church. Studied Theology at Moody Seminary. Studied Paramedics at Madonna College. Studied Broadcast Media at Specs Howard School of Media Arts. "Being taught to avoid talking about Politics or Religion (especially intersection of the two) has led to a lack of understanding of Politics & Religion. What we should have been taught was to have a civil conversation about difficult topics" Author unknown. Moment of Clarity sometimes deals in Religion/Faith, sometimes deals in Politics, but is NOT afraid to deal in that intersection of the two!
Moment of Clarity hour starts off, though, with a Moment of Sports with WAAM's own Sports guru Derrick Stone. Moment of Clarity often also features CoHosts Pastor Max (retired), Ypsi Ed (Publisher of CourantOnline.com), and Phil Stargell (of Abolitionists Roundtable fame), and sometimes Rick's wife Gayline.
Come join us Saturday's from 2pm – 3pm. We Love all our Listeners, and we mean ALL our Listeners and all viewpoints are Welcome and even encouraged as part of our discussions.
Catch past Shows Archived at https://soundcloud.com/user-801965342/sets/moment-of-clarity
*** Abolitionist Round Table – Phil Stargell. LIVE SATURDAYS 9- 10AM. Phil Stargell is the founder and host of the Abolitionist Round Table radio show, broadcasting every Saturday on WAAM Radio. The show is patriotic, pro-traditional family, and pro-life. We seek to protect the American heritage. Join us and become part of the roundtable! We have formed alliances with patriot groups and have outreached to all the pregnancy crisis centers of Michigan.
Our mission is to protect our American heritage, to promote Christian ideals, and to advance a new generation of conservative leaders in America. We affirm and promote the traditional family unit and the Judeo-Christian value system upon which it is built, in order to protect life, marriage, family, faith, and freedom. The Abolitionist Roundtable of Michigan strongly encourages Americans of like mind and those who oppose us to take a seat at the Roundtable in vigorous debate. We use the airwaves, the internet, and personal appearances by Roundtable members to achieve our goals. E-mail: [email protected]
**** We also hope you'll tune-in to WAAM at 1p for Ed Bonderenka's "Your American Heritage" Show as he provides the lead-in to/for our Event and Pastor Rick's Broadcasting LIVE from PLE30 starting at 2p.
THANK YOU FOR CONSIDERING US TO HELP SINGLE-MOTHERS IN THIS TIME OF NEED – With the #WuhanVirus LOCKDOWN and more and more Folks having Cash Flow (temporary Job Losses) of their own Regular Charity channel donations are down and we know you will want to step-up during these difficult times to Help us to at least focus on one area of increased need!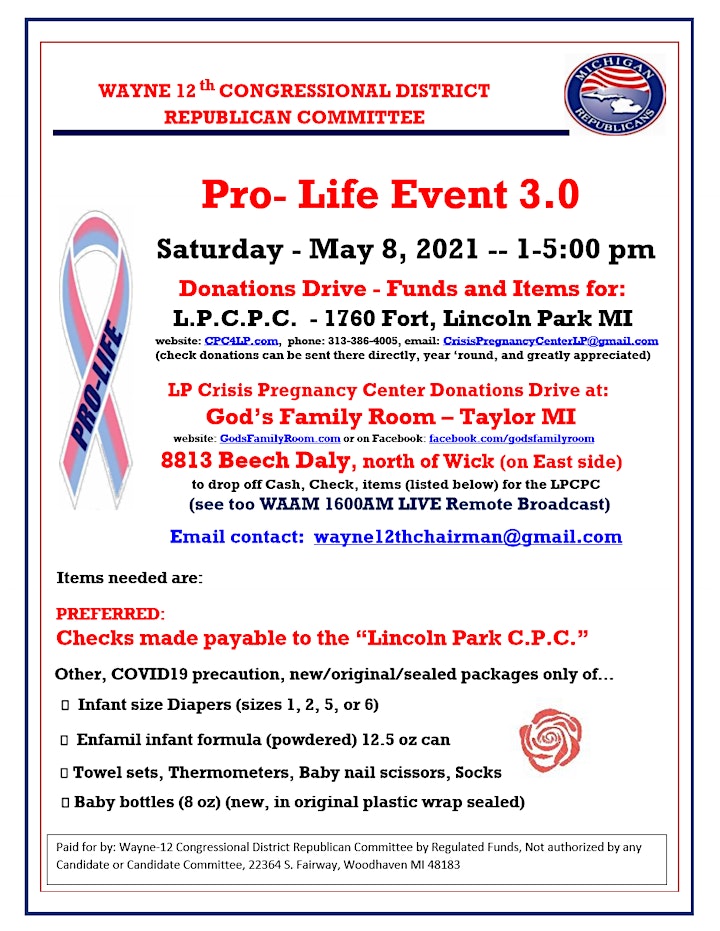 Related Events