WFPA – Women's Fire Prep Academy 2023
February 25 @ 7:00 am

-

5:00 pm

PST

Free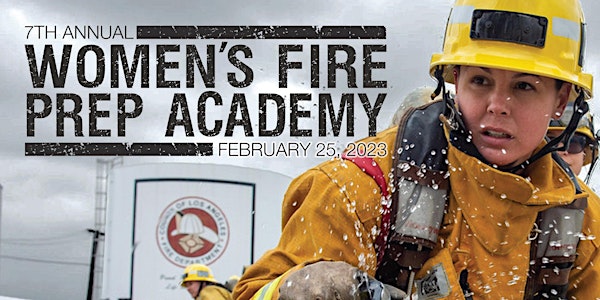 Compete for a spot in the 2023 Women's Fire Prep Academy!
Open to everyone 18 and over!
Join us on Saturday, February 25, 2023 to compete for a spot in the Los Angeles County Fire Department's 2023 Women's Fire Prep Academy(WFPA)!
We are very excited to host another year of training and preparation for a career in firefighting. You can meet other candidates on the path to becoming a firefighter, network, get a great workout, and find out what it takes to excel in this incredible career.
The WFPA will be conducted every Saturday from February 25, 2023 – April 1, 2023, from 7:00 a.m. – 5:00 p.m. at our headquarters, the Cecil R. Gehr Fire Dept Training Center located at 1320 N. Eastern Avenue, Los Angeles, CA 90063.
For the Day 1 fitness assessment, which will be followed by an orientation to firefighter tools and equipment, be prepared to participate in: Push-ups / Pull-ups / Sit-ups / Planks / Stamina (Beep) Test.
Required Day 1 Exercise Attire:
• Loose fitting mid-thigh navy blue shorts
• Navy blue or white T-shirt
• White ankle socks and running shoes
• NO: Tank tops, stretch pants, visible tattoos, skin-tight shorts or dolphin shorts
• Lunch will not be provided, please bring your lunch/snacks/nutrition/meals for the day.
LIMITED SPACING. YOU MUST RSVP by Thursday, February 23, 2023.
For more information, contact the LACoFD Recruitment Unit at:
• (310) 419-2115
NOTE: Please make sure to check that your email is correct so that you may receive all necessary information for this event.
The WFPA is an interactive paramilitary training environment conducted over six consecutive Saturdays where candidates receive hands-on skills training with firefighting tools and equipment. Find out what to expect in the Los Angeles County Fire Recruit Academy from our amazing fire fighters!
Related Events