Women Veteran's | Holistic Health Retreat: Keys to Wholeness – Grand Rapids
March 25 @ 10:00 am
EDT
Free
The Women Veteran Strong program invites you:
If you've ever felt like something was missing in your healing journey or you are looking for answers that mainstream medicine and therapies have not provided, I urge you to take part in this life-changing retreat.
The facilitators, Beth Townsend and Karel Millard, have extensive training and certifications with tremendous knowledge and experience. Perhaps most importantly though, they are compassionate and skilled at guiding us as Women through understanding our bodies, how to support ourselves as Women, and how to heal the traumas that we store within them.
No matter what stage of your life your are in (pregnancy, pre-menapause, menapuase) this will support you. Take a look at the retreat details in the images below for specifics of what will be covered.
Dates and Times:
Friday, 25 March – Sunday, 27 March
Time: 10:00 am – 4:30 pm each day
*Saturday evening (optional) – Dinner and traditional drumming music will be provided on site following the workshop
*Lunch will be provided each day.
**All retreat costs covered for the Women Veteran participants by the grant funding that supports the Woman Veteran Strong program.
Lodging will be available for those that are coming from a far enough distance that meets state requirements for lodging.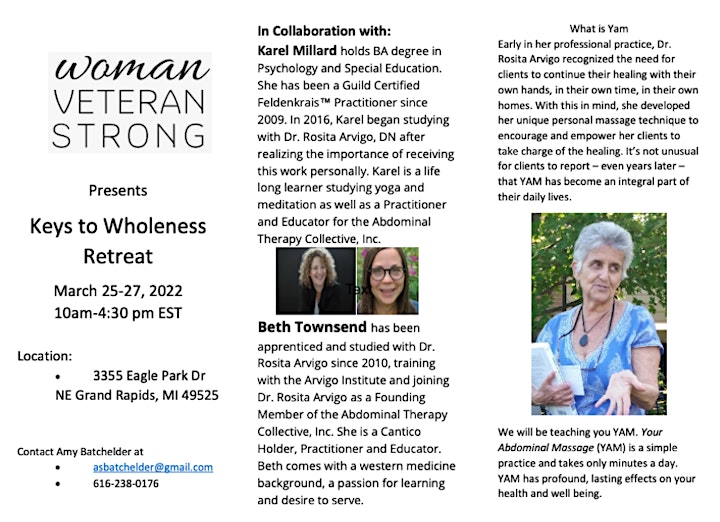 Related Events