2023 Publix Tampa Bay Collard Green Festival
February 18 @ 9:00 am

-

5:00 pm

EST

Free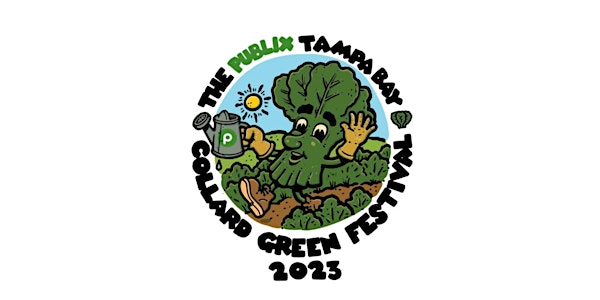 Do Not Miss This FREE Event
President's Day Weekend – Sat., Feb 18, 2023 **The 2023 Publix Tampa Bay Collard Green Festival is back & BETTER than ever!! 🥬
* WHERE: Location: 9th Ave at 22nd St S., St. Petersburg, Florida- In Partnership with the Woodson African Museum of Florida
*DATE & TIME: Saturday February 18th 20239 a.m. – 5 p.m.
*WHAT CAN YOU EXPECT? Let's begin here:
The Tampa Bay Collard Green Festival Inc. is a welcoming and inclusive FREE 💯 community event emphasizing education in food consumption, agricultural science, and improved lifestyle choices, including physical fitness.
Further, we adhere to a "health is wealth" initiative, focusing on healthcare disparities within the Black, Brown, and African American populations.
*To Vend at 2023 TBCGF ⬇️
*Sponsors & Donations ⬇️⬇️
***********************************************************************************************
SAVE THE DATE and make plans to bring the entire family to the 2023 Publix Tampa Bay Collard Green Festival 🥬
*Start the day at 9 a.m. with a Mindfulness Yoga Session w/ Annica Keeler 🧘🏼‍♀️🧘🏽‍♂️
*Enjoy delicious collard smoothies & sample the winning recipient of the 2022 High School Collard Green Recipe Contest Winner, proudly presented by ACF, the American Culinary Federation of Tampa Bay! 😋
*Food and swag giveaways from Publix, Healthy Start John's Hopkins All Children's Hospital, Simply Healthcare, Humana, and more! 👏🏾👏🏼👏
*TBCGF Accessible Agriculture Demonstrations with Lisa Pineda!! Learn how to make use of your current environment to grow and sustain an urban garden.
*TBCGF Culinary Experience featuring Wendy Wesley, RDN!! Experience live cooking demonstrations from local chefs and restauranteurs under The Collard Green Network Tent! 🧑‍🍳👨🏽‍🍳
*The TBCGF Physical Fitness Demonstrations featuring Natasha Walker of Nu-Body Fitness – We'll be working out throughout the day, so bring your skates, 🚴🏽‍♀️ bikes, walking shoes, and comfortable workout gear. Natasha is going to show you how easy it is to incorporate physical fitness into your everyday life💪🏽💪🏻
*We're expanding the block party and everyone is invited to come out and enjoy Black History Month in the Sunshine City ☀️at the 2023 Publix Tampa Bay Collard Green Festival – There is something for the entire family
*Do not miss the Fresh Collard Green Giveaway sponsored by WP Rawl Farms 🥬
*Bring the kids to the KidZone, for fun, face paint 🎨, games, and tree climbing 👧🏾🧒
*Connect with local community service providers for resources, screenings, and blood pressure checks 🩺👩🏽‍⚕️, and school supplies
*African Drum Circles throughout the festivities 🥁 …
*Enjoy collard greens (look for our large tent behind Chief's Creole Cafe), food, and merchandise from vendors near and far!!! * We won't run out of greens this year 😂
…. And we're just getting started, the festival headliner and the 4 p.m. SUPRISE will be announced as the festival approaches!!!
*Stay tuned and stay connected for everything TBCGF 2023!
*Sign up for our monthly newsletter at [email protected] 💻
*Do you make the BEST COLLARD GREENS in Tampa Bay? We'll be the judge of that! Enter for your chance to win the $500 top prize and bragging rights at the 2023 Tampa Bay Collard Green Festival COLLARD GREEN COOK-OFF, sponsored by Healthy Start John's Hopkins All Children's Hospital🥇💰
***************
Special THANKS to our Sponsors, Partners, Vendors, Donors, & Volunteers!!!
Woodson African Museum of Florida
Publix
Healthy Start of John Hopkins All Children's Hospital
American Culinary Federation of Tampa Bay
Simply Health Care
Humana
Deuces Live
Chief's Creole Cafe
WP Rawl Farm
Tampa Bay Times
St. Petersburg Downtown Partnership
… And many more!
*It is not too late to vend, sponsor, or donate to the Tampa Bay Collard Green Festival – Let's make a difference together!
*To Vend at 2023 TBCGF ⬇️
*Sponsors & Donations ⬇️⬇️
https://linktr.ee/tbcgf
Related Events