Daisy Walk for Military and Veteran Suicide Prevention
March 25 @ 9:00 am

-

11:00 am

PDT

Free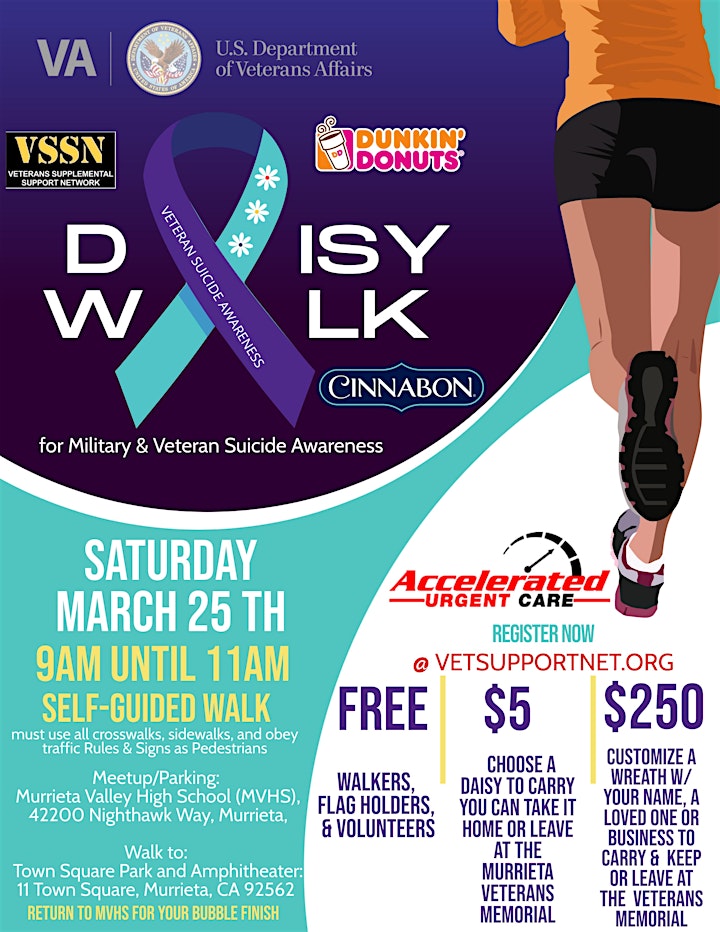 Self-guided walk is a 1.5-3-mile tour of veteran Memorials and the national wall of honor where you can stop to hear stories from historians.
Sponsors and For-Profit Vendors Click Below:
https://www.eventbrite.com/e/vssns-daisy-walk-vendors-sponsors-tickets-354666104867
The Daisy Walk is a charity walk where people of all ages and backgrounds come together to openly share resources in efforts to prevent suicide in the military and veteran community.
Each dollar brings us closer to a world without suicide.
LOCATION CHANGE AND ROUTE CHANGE:
Route:
Meet up/Parking: Murrieta Valley High School: 42200 Nighthawk Way, Murrieta, CA 92562
Walk to: Town Square Park and Amphitheater: 11 Town Square, Murrieta, CA 92562
Return to: Murrieta Valley High School: 42200 Nighthawk Way, Murrieta, CA 92562
Event Itinerary
8:00 AM Dunkin Donuts Power Hour
8:00-9:00 AM Check-in, Lunch Orders, Flower & Wreath Pickup
8:45 AM Announcements and Line-up for Self-guided Walk Kick-Off
9:00 AM-10:30 AM Walk from MVHS to Town Square Park-Veterans Memorial
10:00 AM-10:15 AM 50 Foot Flag Carry around Veterans Memorial
0930-11:00 AM Flower & Wreath Lay at the Veterans Memorial
10:00 AM-11ish AM Return to Murrieta Valley High for the Bubble Finish
Things to Bring
Water
Sunscreen
Comfortable Shoes
Light Clothing
Charged Cell Phones for Pics and Posts (#daisywalk)
Things to Buy
Flowers: $5 Long-stem Daisies (limited supply at the event)
RED- represents a person who has lost a loved one or friend to suicide
GOLD daisies represent a person who identified with, connected to, or supported a person with suicide ideation.
Blue daisies represent a person who recognizes the struggle and impact of suicide ideation and is willing to speak out ask the uncomfortable questions and go get help.
Custom Wreath: $250 nonperishable custom wreath to lay at the wall or walk with
IN-N-OUT Mealbox: $10 Preorder and receive a wristband for redemption after you finish!
What's FREE
All Resources
The Walk
Dunkin Donuts—thanks to Stout Brands!
Bottle Water—thanks to our Donors
T-Shirts for check-in, a trading post (snack bar and flower station), and safety monitor volunteers
Celebration of Life Bubble Finish:
Please choose one of the following areas to help at the Daisy Walk. Time slots require a commitment of at least 3 hours. Volunteers must let us know if you plan to arrive or leave prior to the requested time in the position's slots.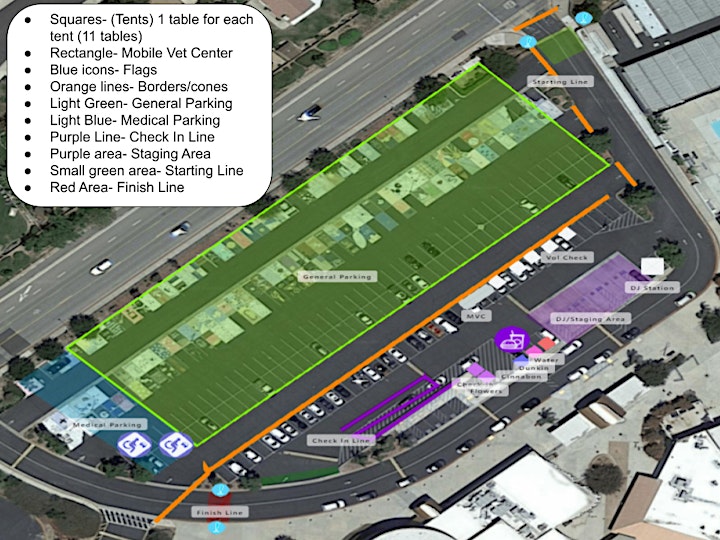 Related Events