Heroes Golfing Trips
October 6 @ 9:00 am

-

1:00 pm

PDT

Free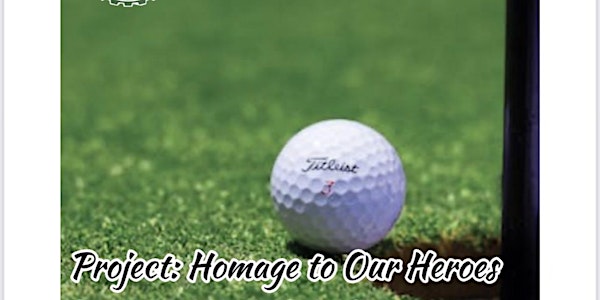 Please Join us Heroes (Veteran's, Active Military, 1st Responders, and Gold Star Families)!Come out enjoy a free day of golfing!
About this event
Project: Homage To Our Heroes presents "Heroes Golfing Trips"
Please join us Heroes ( Veterans, Active Military, 1st responders and Gold Star Families)for an awesome morning of Golfing.
These trips are set up for our Nations Heroes come out decompress, relax and hopefully find a new coping mechanism for those that have suffered from Post Traumatic Stress Disorder, Depression, Anxiety, Self Harm, and other disabilities. This essentially sets up an unofficial unorthodox group counseling session by means of camaraderie.
Let's reignite that drive to thrive!
Gold Star Families are military personnel that died while on duty, KIA etc family members.
So, Heroes Only.
Free of cost to you! Just show up and have fun! Ticket fees covered! You just show up on time!
Check the Weather forecast and dress accordingly. We recommend you wear layers of clothing, hats, sunglasses, sun block, face shield, pants, long sleeve shirts, bug off for summertime.
If you have your own golfing equipment, feel free to bring them.
Once you buy a free ticket you're committed. So please show up early and on time.
If you're straggling and running behind, call us and let us know so you're not holding up the line. We could go and set up and come back for you. So please don't ruin it for everyone and be proactive.
Please call and cancel ahead of time. Another veteran may potentially be able to fill your spot. So Don't ruin it for them as we are limited on availability.
Be aware of the hazards of being outdoors and on the golf course! Hazards include animals, holes in grass, loose rocks (Trip Hazards), Insects, weather Etc. We own all the rights to all media on these trips such as pictures, video recording and voice recordings.
Park then come to the store. Let them know you're here for the Heroes Bowling Trip. Ask for Javier or JB. Once we get all checked in. Set up, give classes on how to golf, then the fun will commence.
Amenities facility has restaurant and bar(you pay).
Have fun, be respectful of others, and help each other out. We all have different levels of Golfing experience.
Please follow us on social media.
www.projecthomagetoourheroes.org
https://linktr.ee/ProjectHomageToOurHeroes
https://www.instagram.com/invites/contact/?i=3vxmfefqvsqy&utm_content=n0wggos
Thank you for your interest! Please share to your friends.
Related Events