The MOF and MAT Team Builder Event
January 22, 2021 @ 10:00 pm
CST
About this Event
What is MOF?
MOF = Mylo Obstacle Fitness, Austin Texas' premiere training venue for obstacle course and endurance athletes. A Texas native, and USMC veteran, MOF owner Mylo Villanueva runs training programs like no other, and will graciously host this event, which is certain to be a unique, enriching, and unforgettable experience for all participants.
What is MAT?
MAT = Masked Athlete Team, the action arm of Operation Enduring Warrior (OEW). Anonymous team members who wear a gasmask to conceal their identity, and perform the role of Honoring, Empowering, and Motivating our nation's wounded military veterans and Law Enforcement Officers.
What is the Team Builder Event?
The first of its kind, this event will combine OEW annual training requirements (such as the MAT Physical Fitness Test) and Mylo team building evolutions such as negotiating obstacles that are not possible thru individual effort and require leadership, communication and teamwork to succeed.
Further, this event serves as a fundraising effort to support OEW, a veteran founded, all volunteer 501(c)(3) nonprofit organization.
The 5 x W's
WHO: OEW Honorees (from the Police and Military communities), MAT members, INDOC Candidates (personnel trying out for the MAT), MOF athletes, OEW supporters including Community Ambassadors, and rucking enthusiasts aka GRTs
WHAT: The MOF and MAT Team Builder Event will include the following…
MAT PT test consisting of push-ups, sit-ups, 2 mile run, 1 mile burden carry with 100 lbs, 9 mile ruck march with 45 lbs, max reps deadlift with 225 lbs, and pull-ups
Obstacle course negotiation empowering adaptive athletes, some of whom have permanent physical injuries
Ruck march movements, carrying an individual load of 30 lbs
Link up with friendly forces operating in the area to conduct a convergence Hero WOD. This event overlaps with a GORUCK Tough Challenge occurring in Austin, TX to celebrate GORUCK's ten year anniversary. The anniversary Tough will be led by GORUCK's founder and owner, Jason McCarthy.
Sunrise bonfire award ceremony, to recognize outstanding contributions by the MAT. This will be the first ever "public" unveiling of these anonymous volunteers, and a long over-due gesture of appreciation, for the lives they have saved through empowerment.
WHEN: Event Schedule:
SP = 22JAN2021 at 2200hrs (start time is 10pm on Jan 22, 2021)
ENDEX = 23 JAN2021 at 1000hrs (10am on Jan 23rd, 2021 – approximately!)
After Party = 23JAN2021 after ENDEX (Join us for fellowship after the event.) All OEW pax will be eating, drinking, showering, and camping at MOF Saturday night. Stick around!
WHERE: 12925 Lowden Ln BLDG E, Manchaca, TX 78652
WHY: While the purpose of this event is to actualize OEW's mission to Honor, Empower, and Motivate our nation's wounded veterans and LEO's, the event planners (Mylo and MAT Lead, Danny Stokes) recognize without sufficient funding and qualified people, it will be impossible for OEW to accomplish its mission. The secondary purpose of this event is to raise money for OEW, while providing an opportunity for the Masked Athlete Team to conduct their annual PT test, and supervise the Indoctrination of their newest candidates.
HOW: Event price is $120, sign up on Eventbrite. Carry a rucksack (Army talk for backpack) with at least 30 pounds in it, and three liters of water (Packing List will be provided)
Further Details and Event Description:
Expect a 12+ hour, overnight, fitness based, team-building endeavor. You will be in a group of 35-50 personnel, operating as a Team, and led by very experienced Cadre. Your route will cover 15 to 20 miles, most of which will be under heavy load. Specific to this event, there will be evolutions designed to stress and evaluate MAT INDOC candidates. Assigning your class their prescribed tasks throughout the event will be "Cadre" Daniel Stokes. Daniel is a volunteer athlete with OEW, and currently is the Masked Athlete Team Lead. Daniel served in 1st Special Forces Group, and has led over 200 ruck based fitness challenges since retiring from the US Army in 2015. Additionally, MOF founder and owner Mylo will perform Cadre duties, on his home turf. Mylo has years of experience training thousands of athletes in endurance training, team building, and OCR focus. Mylo served in the US Marine Corps, and although he's tough as nails, he is also a very skilled teacher and motivator. Mylo has the ability to extract the best performance out of you!
Although this arduous event will not be easy for the strongest of able-bodied athletes, two bad-ass adaptive athletes will tackle the event, to test their mettle, and prove that despite having permanent injuries, they are more than able to overcome this physical adversity. OEW will host one military veteran Honoree and one Law Enforcement Honoree. Empowering the two Honorees will be numerous Masked Athlete Team members, in full uniform, including gas mask, helmet, and rucksack. Their identity will be concealed, and they will remain anonymous throughout the event.
All funds collected will be donated to OEW to cover operational requirements and resource further events.
WARNING … Do not even CONSIDER participating in this event unless you are committed to prepare yourself for the intense work demands that your teammates will require of you.
The PAY OFF:
You WILL be enriched.
You WILL be rewarded.
You WILL be inspired.
You WILL serve something bigger that yourself!
Tickets: $120.00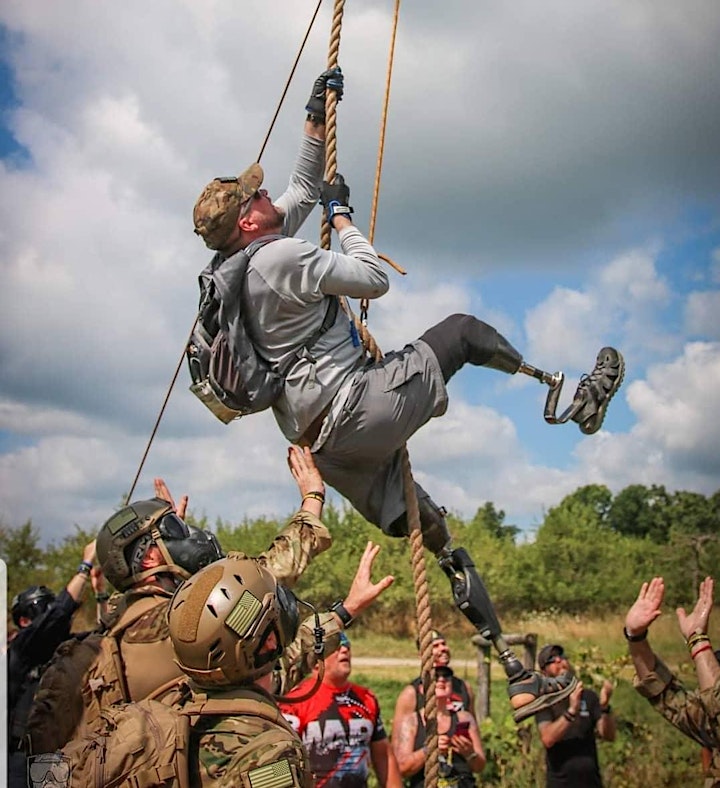 Related Events